Ομιλίες
Why does (student) life beyond the classroom matter? And to whom?
Co-curricular learning lies at the heart of American-style higher education.
Being a member of a student club, organization or the society associated to your degree, and taking part in experiential learning programs designed and developed by College educators are concrete, structured and institutionally supported ways to build skills that can be transferred to one's professional and personal life outside the College.
This interactive presentation/workshop first zooms in on Deree's co-curricular service learning and humanitarian education program, the Meaningful Engagement Program and Trip. The program was initiated and designed in 2016, following a visit to Lesvos in the midst of the refugee crisis. The objective of the program is to educate students to become purposeful, conscious, aware and trained field-workers and volunteers, and to provide opportunities for real-time interaction with local communities in the Greek provinces, through engagement with active citizens, local leadership, and the vulnerable groups and individuals in a given society.
Following a presentation of the program's learning objectives and structure, we will reflect on the transferrable skillset built through service learning and humanitarian education and on the professional fields where this skillset can be beneficial.
The interactive presentation/workshop welcomes students, fellow educators, administrators in education, volunteers and all those who are passionate about giving, sharing, interacting, learning "with", and delving into the unknown, namely the – at first, perhaps, strange – world of the "other" human being.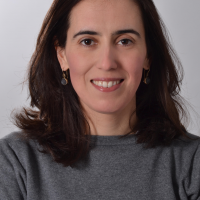 Matilda Chatzipanagiotou
PhD, Faculty of Law, Humboldt University in Berlin; LL.M., School of Law, New York University; Ptychion, Athens Law School, National Kapodistrian University of Athens
PhD, Faculty of Law, Humboldt University in Berlin; LL.M., School of Law, New York University; Ptychion, Athens Law School, National Kapodistrian University of Athens
Matilda Chatzipanagiotou joined The American College of Greece in 2013, currently serving as the Dean of Students and since 2014 as part-time faculty member in the School of Business, teaching 'Business Legal Issues'. Since 2016, she is heading an EU Action Grant research project led by the University of Leeds on narratives of and counter-narratives to Islamophobia as a scientific partner in Greece, in collaboration with Alba-ACG.
Matilda Chatzipanagiotou is a constitutional and human rights lawyer and researcher with extensive experience in interdisciplinary projects. She was a research fellow and Deutsche Forschungsgemeinschaft scholar at the Humboldt University Graduiertenkolleg "Multilevel Constitutionalism: European Experiences and Global Perspectives" in Berlin (2009-2012). Her doctoral thesis, summa cum laude, is an interdisciplinary approach to the practice of the law of human dignity in constitutional jurisprudence. She received her LL.M. in 2009 from New York University, on Fulbright (with an additional Mitsotakis grant) and Onassis scholarships, and was the LL.M. Convocation Speaker (Madison Square Garden, May 2009) representing the Graduate NYU Law School Class. She graduated from Athens Law School (Papadakis Bequest scholar) in 2008.
Πισω στο προγραμμα